Preorder:
Amazon
,
Barnes & Noble
,
Indie Bound
,
Hudson
In other news,
Space Weird Thing
is delightful, and I feel surprisingly invested in
@xkcdbracket
's results.
Parody Week: A Softer World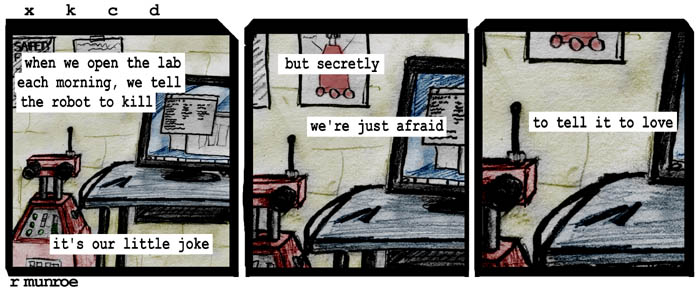 Permanent link to this comic: http://xkcd.com/144/
Image URL (for hotlinking/embedding): http://imgs.xkcd.com/comics/a_softer_robot.jpg

Warning: this comic occasionally contains strong language (which may be unsuitable for children), unusual humor (which may be unsuitable for adults), and advanced mathematics (which may be unsuitable for liberal-arts majors).
This work is licensed under a Creative Commons Attribution-NonCommercial 2.5 License.
This means you're free to copy and share these comics (but not to sell them). More details.